World-class vehicles, perfect for all occasions!
From small party buses for your intimate dates or buses than can comfortably seat 30 of your friends, Party Bus Fort Worth has the party bus that you need. Whatever your requirement is - for party, wedding transport, or city tour - trust that we are here to provide total customer satisfaction.
Choose from any of the buses below or give us a call to discuss your requirements.
18 Passenger Party Bus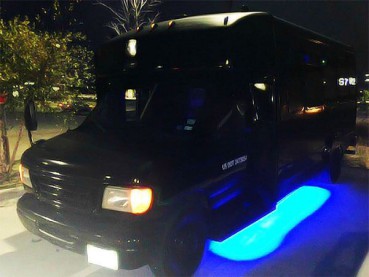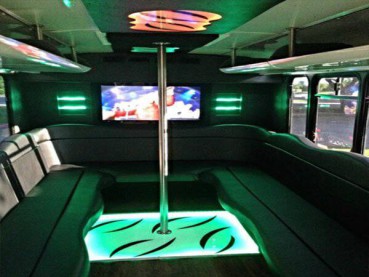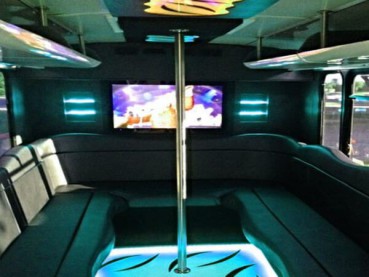 This 18 passenger party bus is a luxurious mode of transportation for groups celebrating any event in the Dallas-Fort Worth metro area. Plush leather seating, a light-up dance floor, TV, and booming stereo are all included!
18 Passenger Silver Velvet Party Bus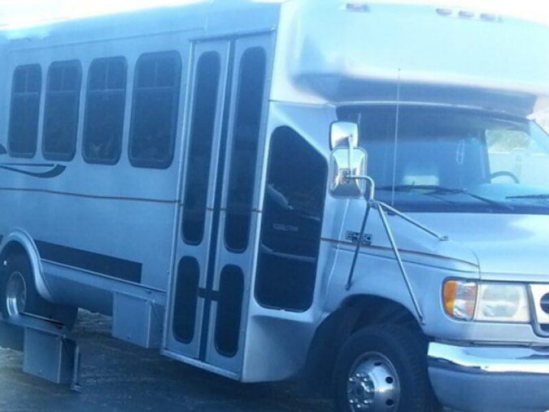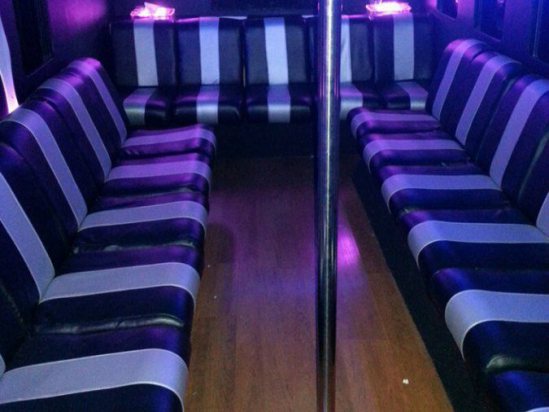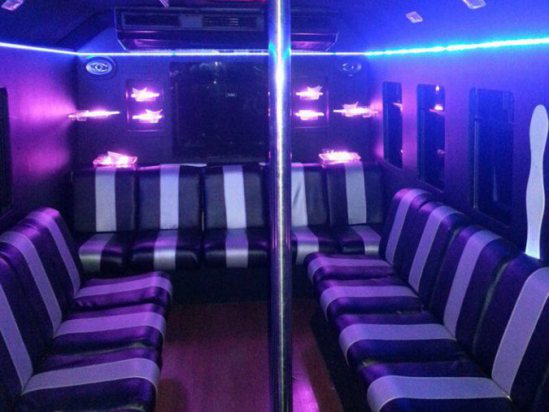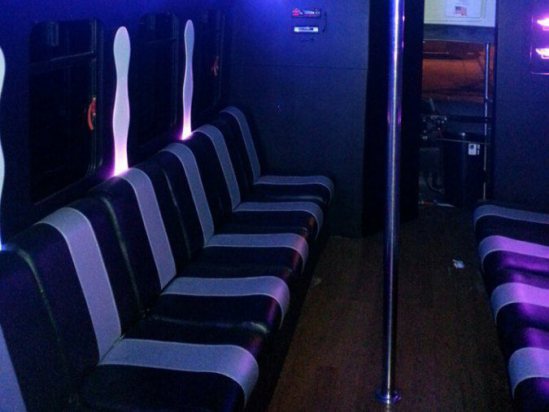 This beautiful bus is built to handle you and up to 17 others in perfect comfort and ultimate style! Featuring some of the coolest mood lighting we've ever installed, and the most comfortable and unique two tone leather seating... We're sure you'll simply love what you'll get when you rent this 18 passenger beauty. It's a popular size due, so give us a call early to ensure it's not booked for your big day!
20 Passenger Party Bus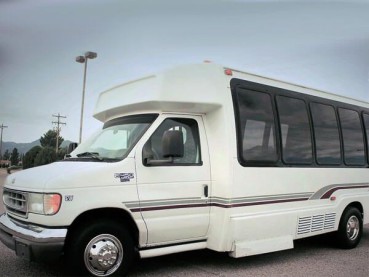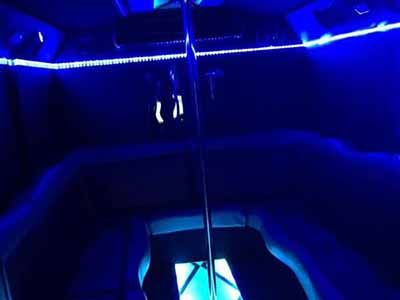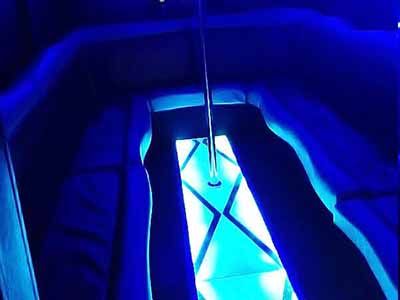 This 20 passenger party bus is a slightly larger option. Colorful lighting adorns the interior of this spacious Fort Worth limo bus, and you'll find superior comfort on the leather seating. Dance, drink, enjoy music and movies, do it all on this amazing bus!
20 Passenger Black Velvet Party Bus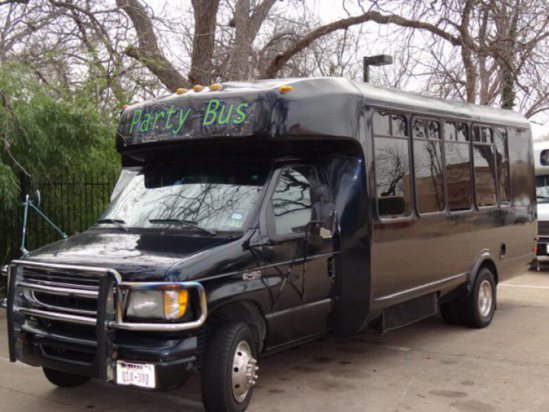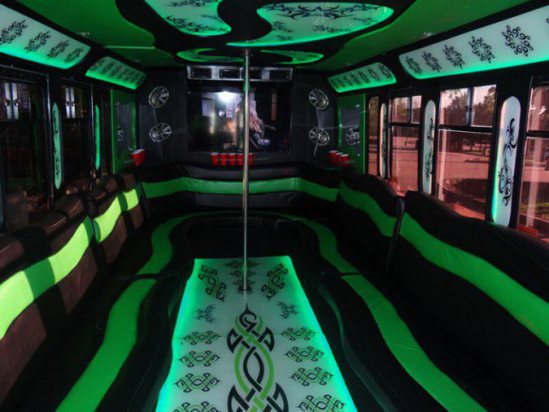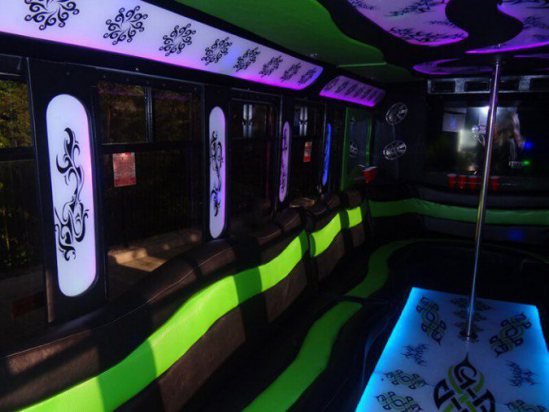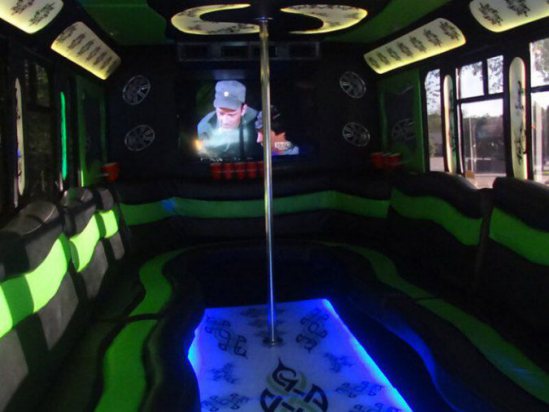 Black, and simply ready to bring the goods to whatever you have planned! Luxurious two tone leather seating, ceramic back-lit flooring & ceiling, as well as beautiful accouterments throughout that will lend value and comfort to you and all of your guests. This one seats up to 20 and can handle anything lower than that in ultimate comfort.
20-22 Passenger Party Bus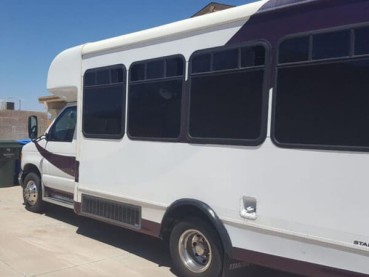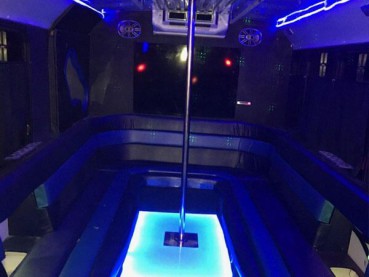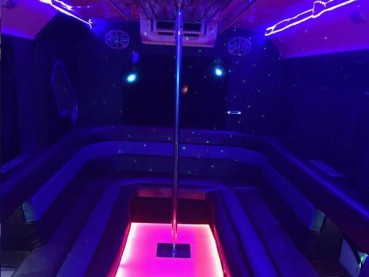 A step up in size, our 22 passenger party bus is one of our most popular options. Spacious and comfortable leather seating, a light-up dance floor and dance pole, colorful laser lighting, and flat screen TV, and much more are featured on this one. Pour a drink at the bar and keep your drinks chilled with the ice-filled coolers. You're going to have a blast on this party bus, no matter what you're celebrating!
24 Passenger Black Coach Party Bus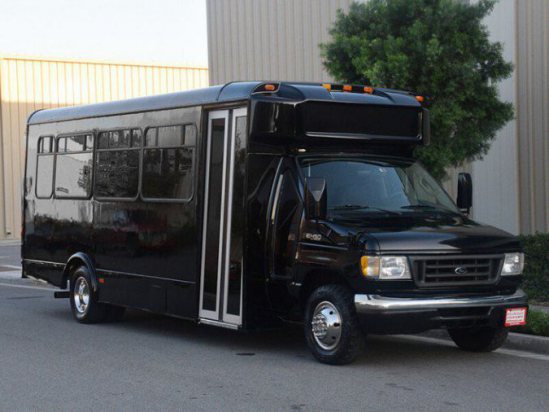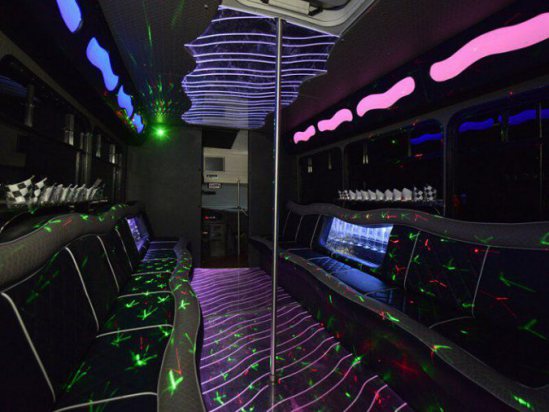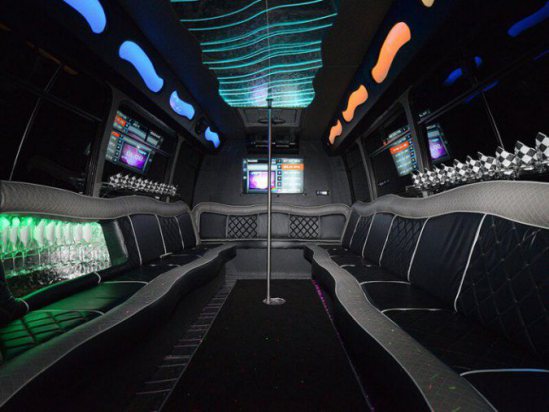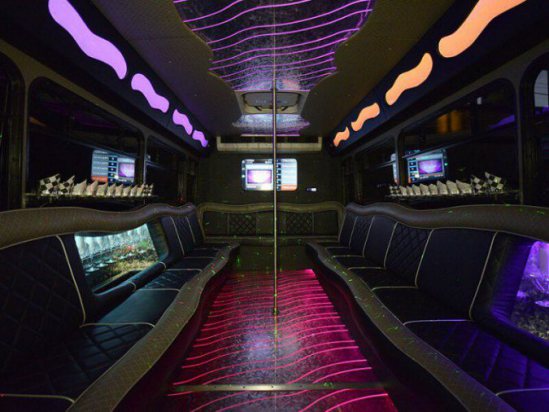 We're really proud of the custom crafted interior we've set up in this gorgeous addition to our already unbelievable fleet. Enjoy the ultimate in style, comfort, and amenities as you celebrate the most momentous occasions in your life. Revel in the super dark privacy afforded by our dark tinted windows as you and your friends celebrate to your heart's content.
24 Passenger Blue Velvet Party Bus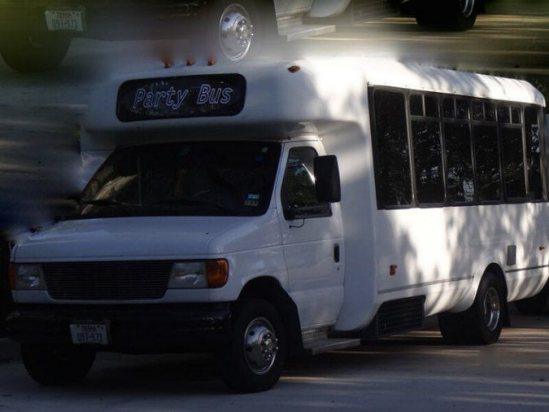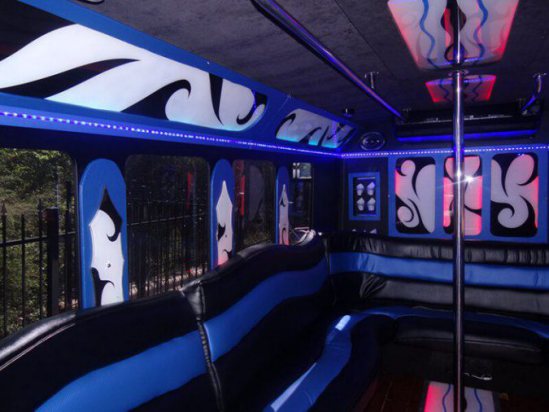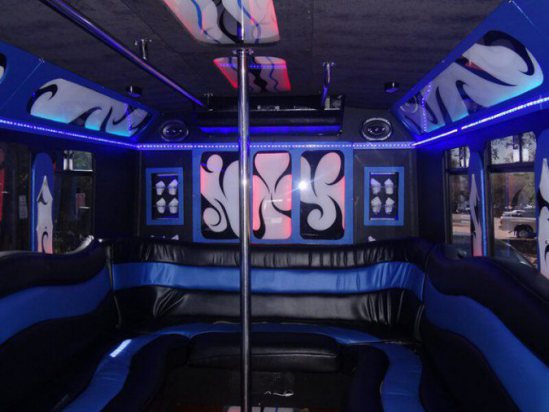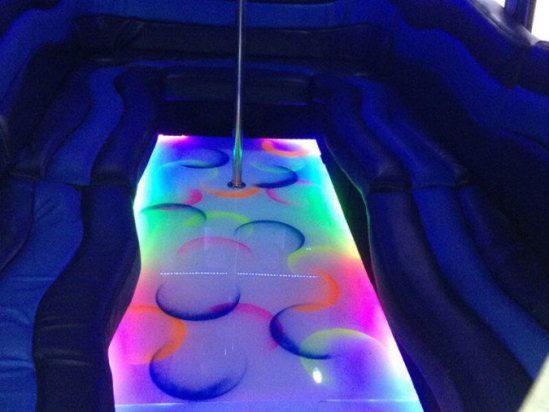 Blue Velvet is as smooth and classy as it's name implies! Befitted with some of the coolest and most unique interior styling that we've ever dreamed up... And that doesn't even begin to get into the level of high-class and fun detail that our designers have in store for you here. Dance the night away, or let us shuttle you and 23 of your closest friends around town.
25 Passenger Black Party Bus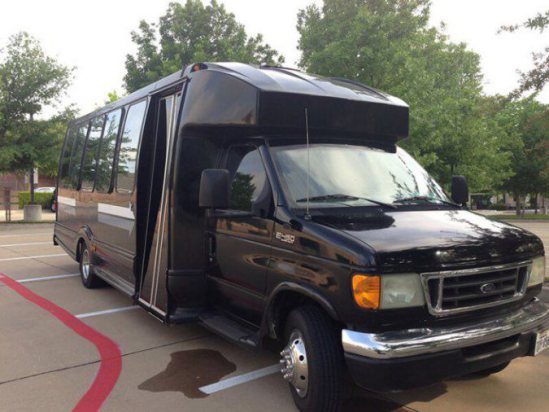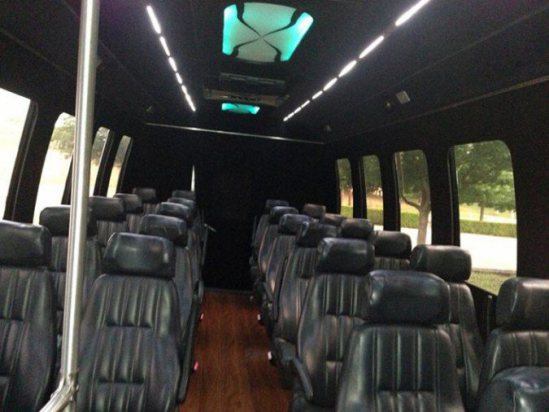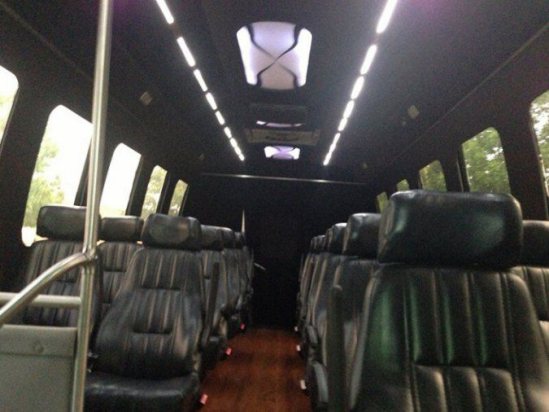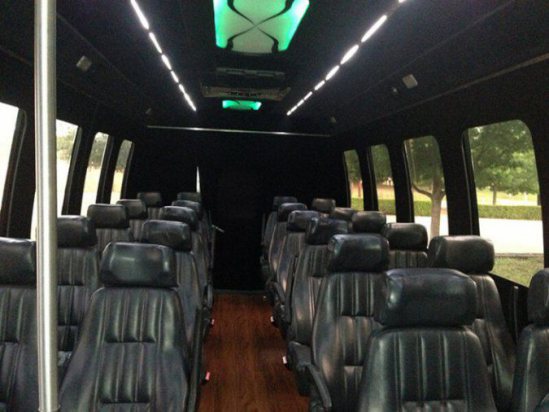 Half shuttle, half party bus, and 100% perfect! This black leather hybrid bus is a great choice for getting people around in both style and comfort that can't be rivaled anywhere in the State of Texas. Enjoy the luxuries while you also revel in the simple functionality of this bus. This is a perfect choice for city tours as everyone is able to get broad views right from their row!
26 Passenger Black Diamond Party Bus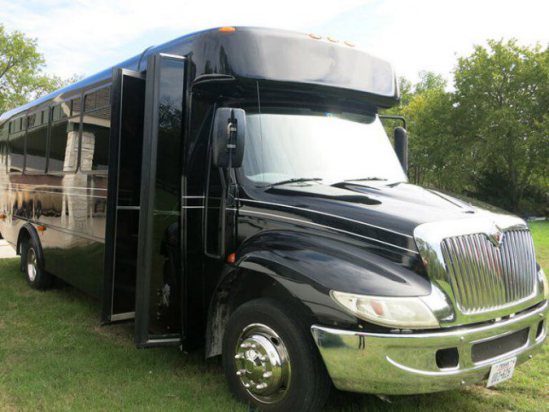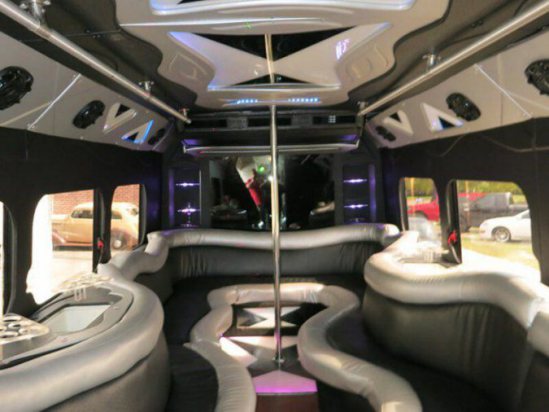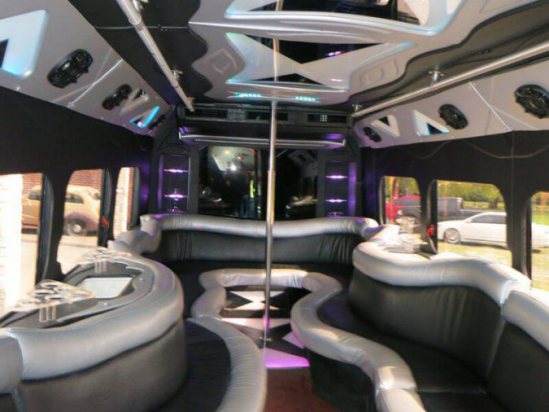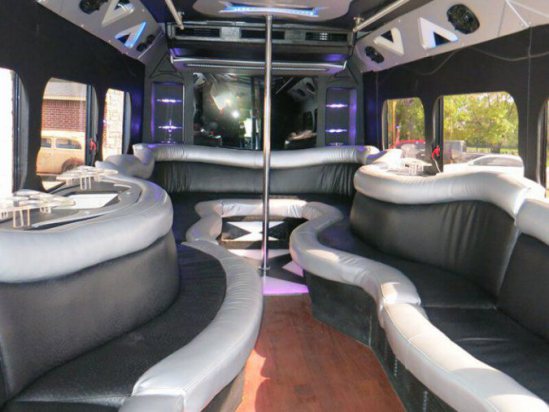 If you're looking to move around no more than 26 people, you're simply not going to find a more elegant and classy choice no matter where you look! Inside and out, this brand spanking new bus simply screams opulence and invites you and your friends to enjoy life to it's fullest potential. If you're looking to live a little, this is the perfect choice for a bit of good ole pampering!
28 Passenger Party Bus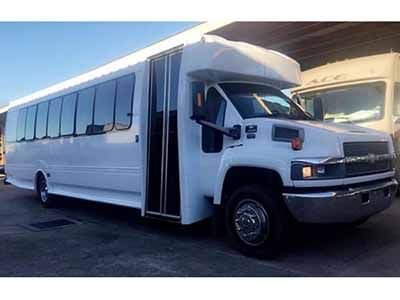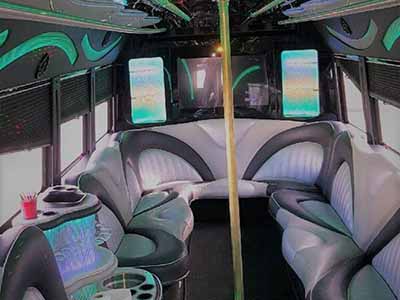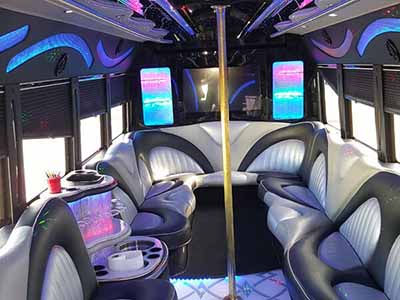 If you've got a group of up 28 guests, don't pass up a chance to celebrate on this incredible party bus! This is one of our most popular buses, with deluxe two-tone leather seating, light-up dance floor and pole, colorfully lit bar station, cooler, LED lighting throughout, a large television, CD player, DVD player, input for your phone or iPod, and a mind blowing stereo system!
28-30 Passenger Party Bus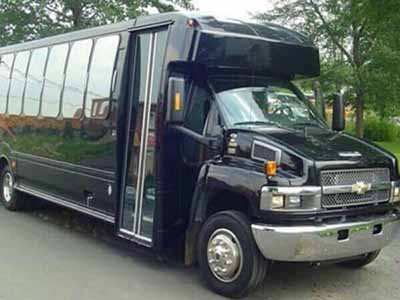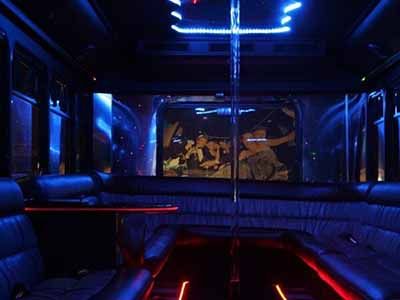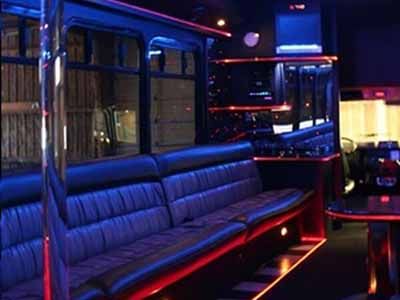 Coming in with seating for a maximum of 30 passengers is this fully equipped party bus. Leather seating around the perimeter for comfort, a sleek dance floor and pole for style and fun, a huge TV screen with included DVD player - this is a perfect bus for birthdays or other crazy celebrations! Take advantage of the built in cooler/bar and get the party started!
28-30 Passenger Mercedes Bus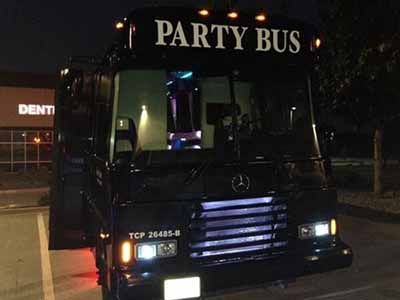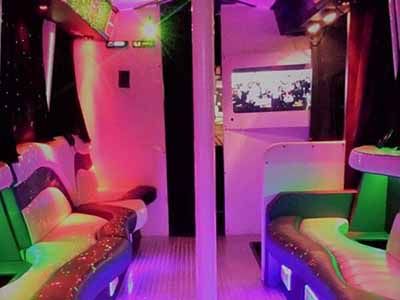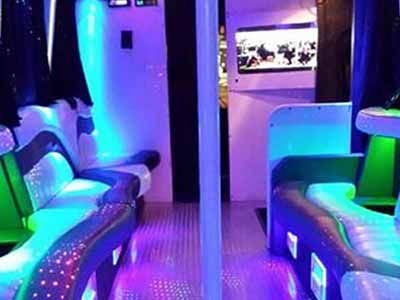 This Mercedes party bus is an extravagant choice! The beautiful interior features two-tone leather seating, dance pole, LED and laser lighting in beautiful colors, a built-in bar with coolers, and plenty of room to dance! There's also TVs, a DVD player, a CD player, and an outstanding sound system.
30 Passenger Party Bus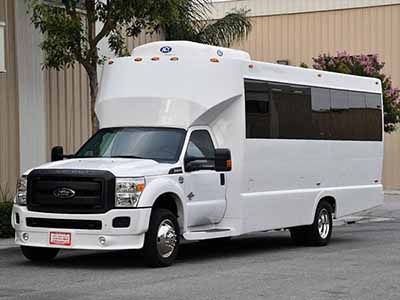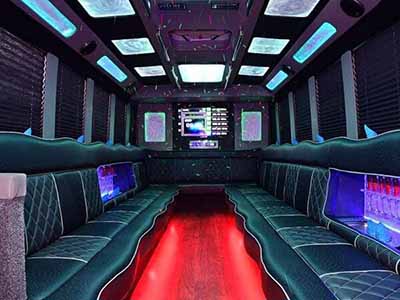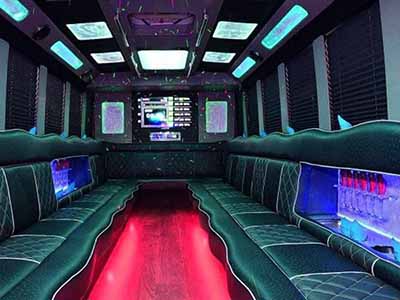 It's hard to pick a favorite among our outstanding fleet, but this one is definitely has a soft spot with us. The diamond pattern leather seating around the perimeter of the bus is spacious and comfortable, and the hardwood floors are accented with beautiful color-changing lights. In fact, there's laser and LED lighting throughout the vehicle, as well as built-in coolers. This is a popular bus for weddings and other events.
30 Passenger Party Bus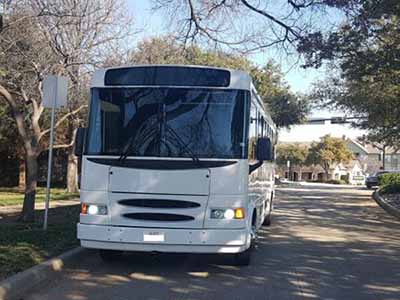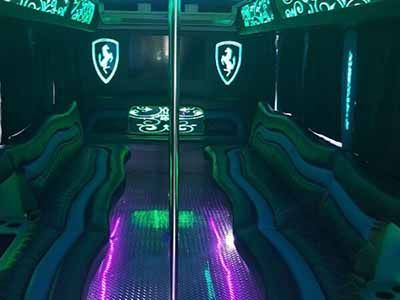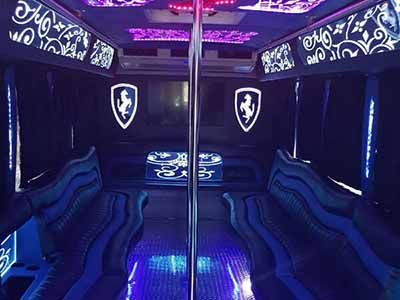 Another option for groups of 30 is this large bus. Two-tone leather seats, a dance pole, and plenty of room are just the beginning! This uniquely designed limo bus is just what you need to get the party started, no matter what the event!
30 Passenger Blue Diamond Party Bus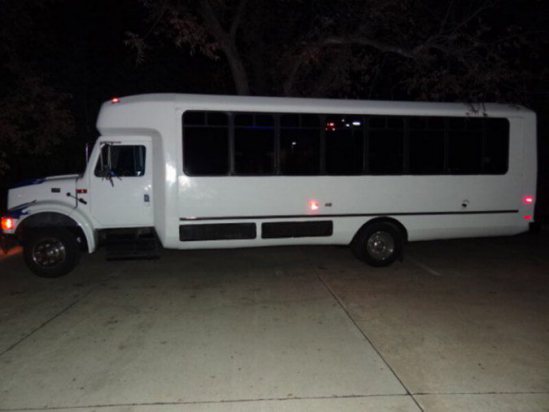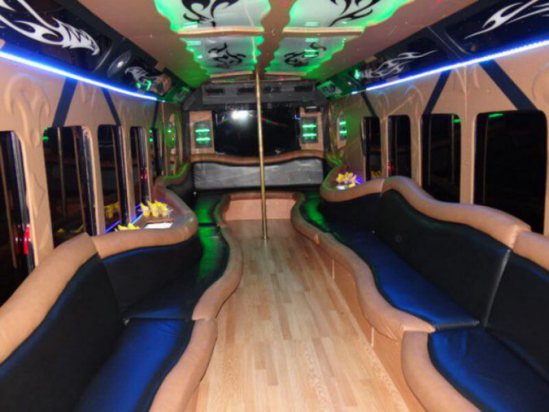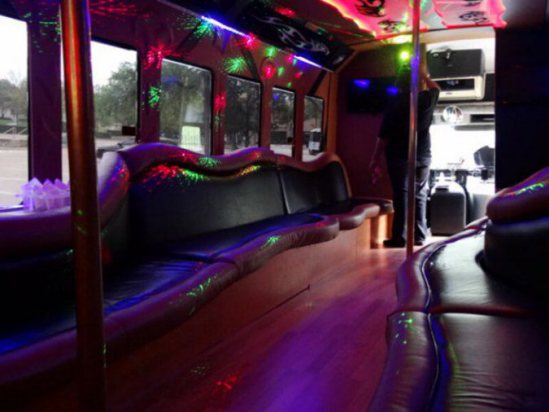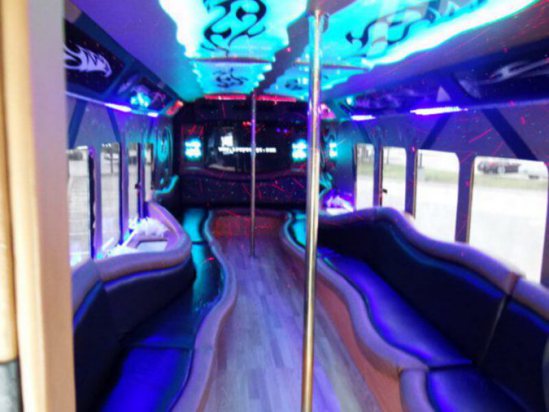 This is one of the most unique party bus choices in the entire state of Texas! Outfitted with a definitely, non-standard interior color scheme, this bus is a very popular choice for weddings and other related events due to it's brighter interior style. Revel in the ultimate style, and spare no detail as you and your group enjoy luxury to it's fullest extent!
30 Passenger White Diamond Party Bus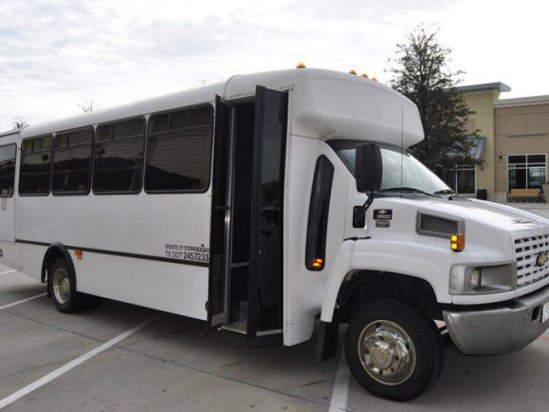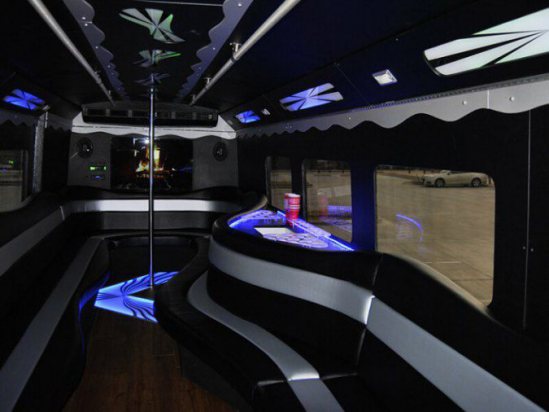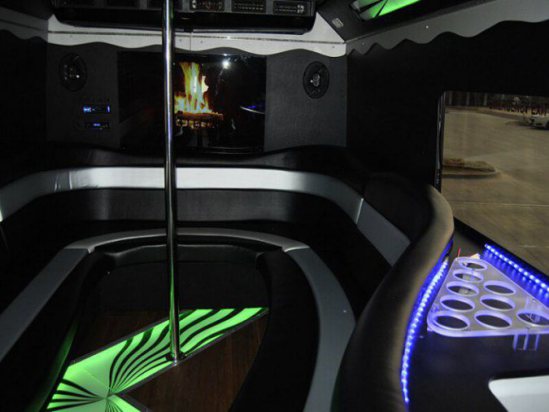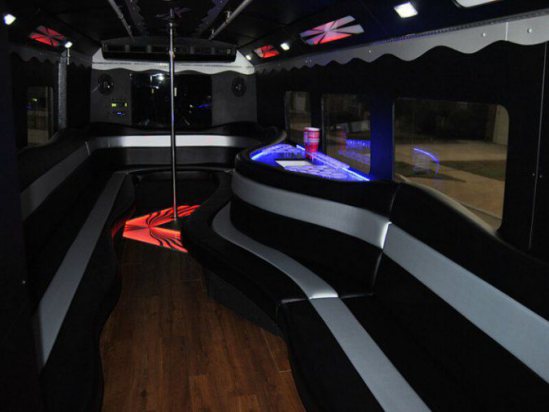 The perfect counter to our other 30 passenger choice, is this 30 passenger option. Elegant inside and out, you're really going to enjoy packing all of your drinks into the wet bar of this ostentatious beauty! We've even added a unique wood and ceramic flooring that has back-lighting to further set off the mood of your joyous event.
32 Passenger Gangnam Style Party Bus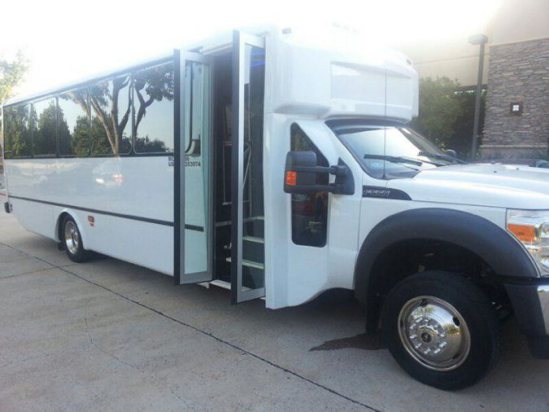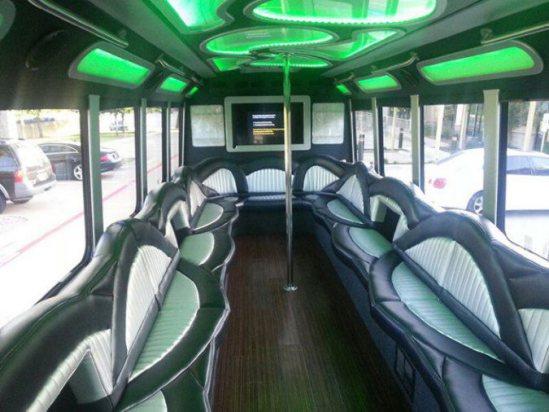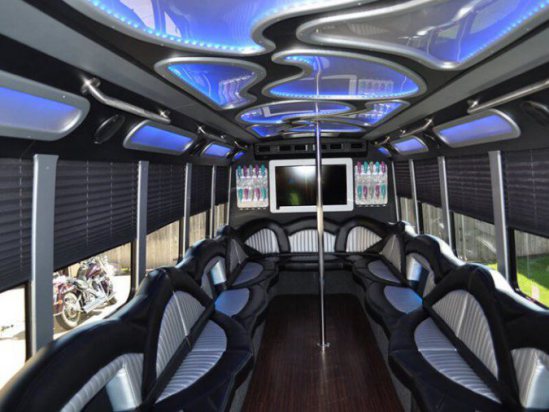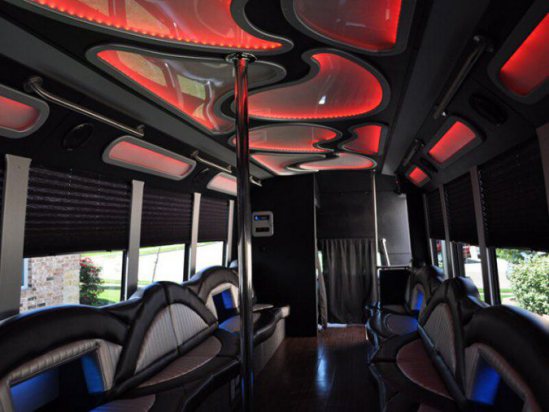 This is our flagship, and we tend to refer to it as the Luxury Party Coach when we're not calling it by it's proper name (The Gangnam Style Party Bus). Outfitted with a regal white exterior and a brand new 100% unique to us interior that really sets the stage for any grand gala you may be planning. Of course, you're going to find this beauty simply packed with goodies for everyone to enjoy, and good thing too as the comfort in this bus simply goes overboard in every way. If you want to treat your group to something extra special, look no further than our 32 passenger behemoth!
36 Passenger Party Bus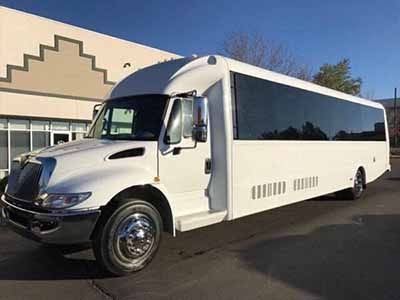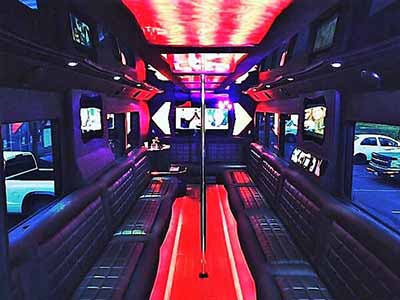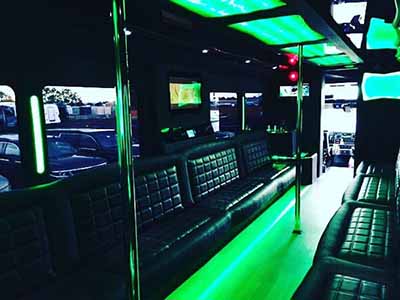 Our 36 passenger party bus is one of our most requested buses. With plush wrap-around leather seating, colorful interior lighting, and a dance pole, this once is spacious, comfortable, and fun! There's multiple coolers built in on board, and a sound system that is truly mind blowing. This bus is the very definition of Party On Wheels!
40-45 Passenger Party Bus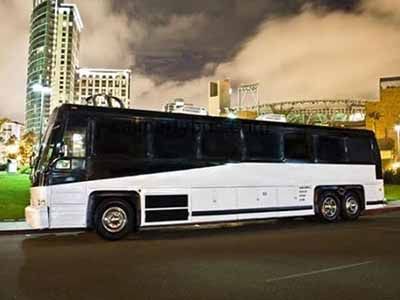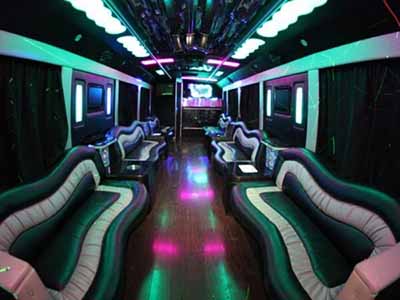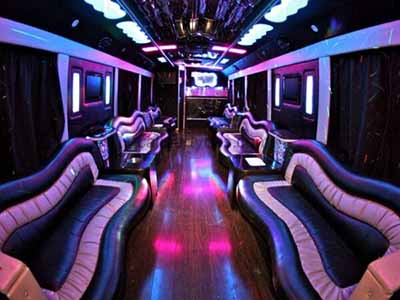 Our largest party bus is our 45 passenger party bus. This beautiful, spacious vehicle is just what you need for your largest get togethers! This one has everything you need for an awesome party! Colorful lighting, leather seats, wood floors, TV, and more amenities. The sound system is fantastic, and the coolers come stocked with ice. Party on!
8 Passenger Yellow Camaro Classy Limousine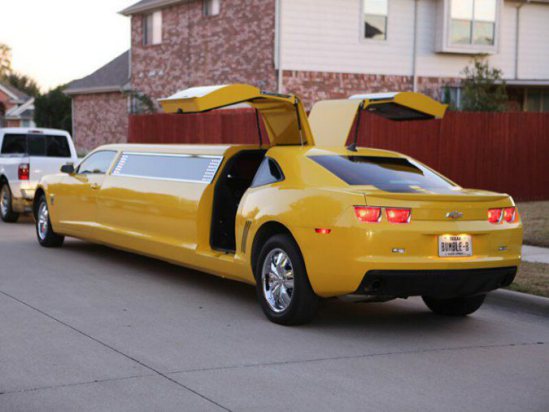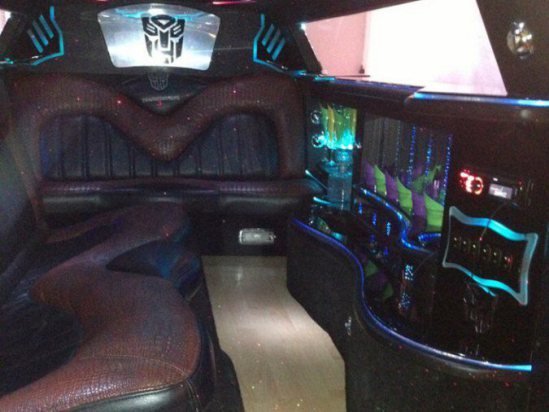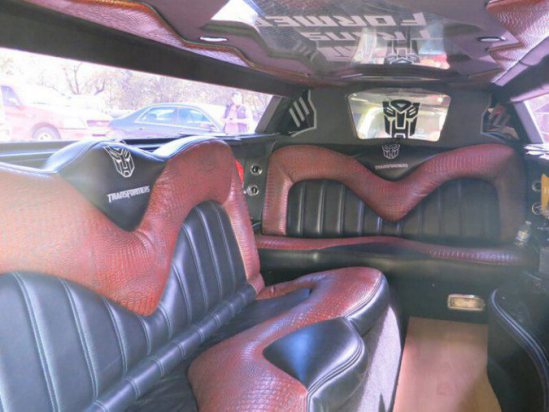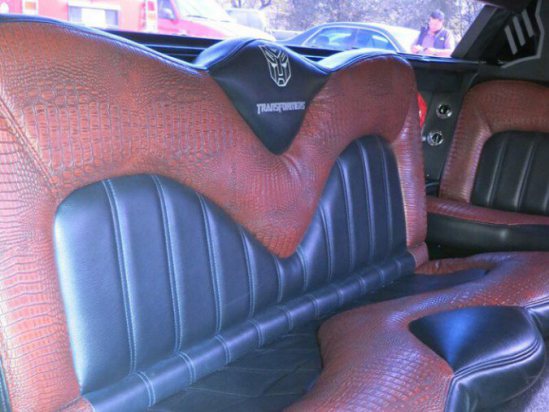 We really wanted to do something different this time around. So, we've added one of the coolest and most unique limousines we could possibly dream up to our fleet. Yes, you read this right... It's an 8 passenger Chevrolet Camaro stretch limousine! With an interior that is surprisingly spacious, our Yellow Camaro has a style of it's own that simply never quits. Enjoy a sports car and a luxury vehicle all in one!
10 Passenger Black & White Stretch Limos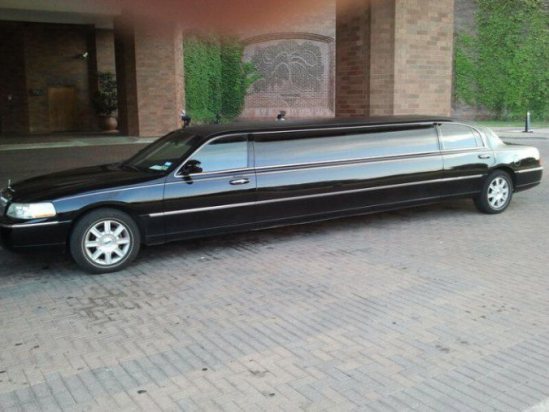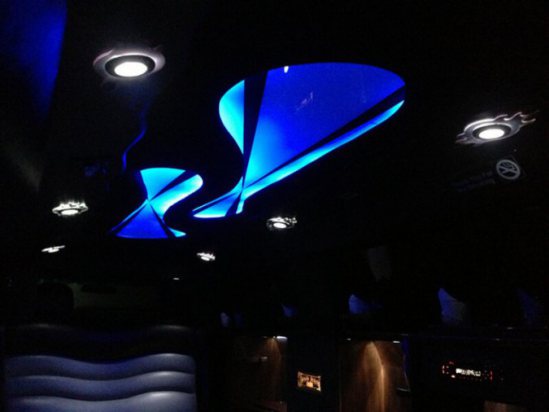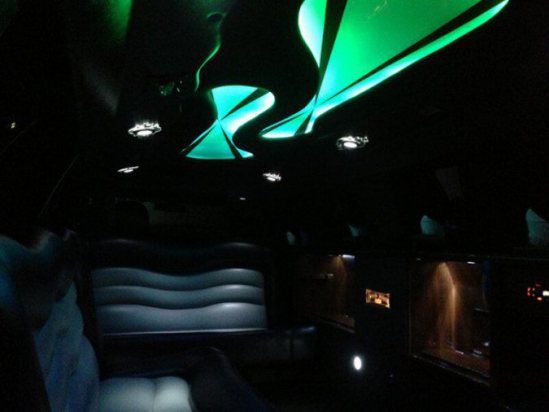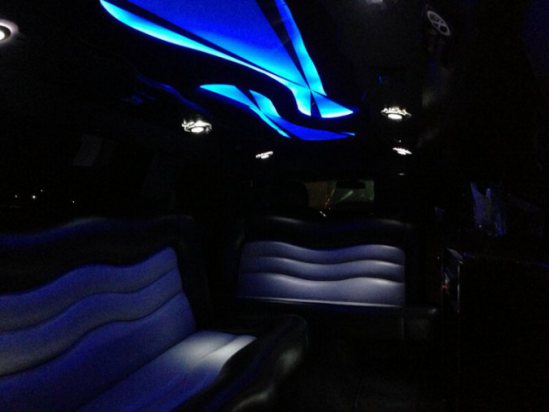 If you're looking for something a little more standard, we have a few different 10 passenger Black limousines for your consideration. You'll find that each choice is styled with amazing amenities that are designed to impress and deliver the ultimate experience for you and your guests.
10 Passenger White Stretch Limousines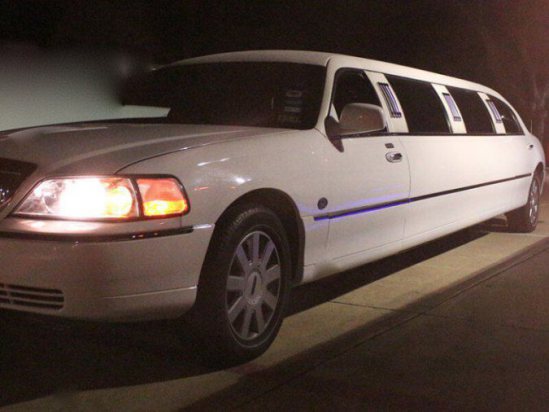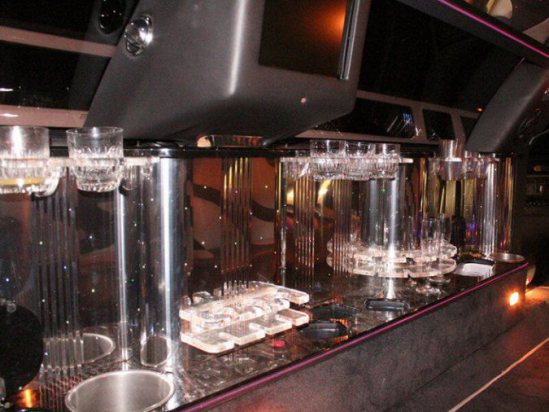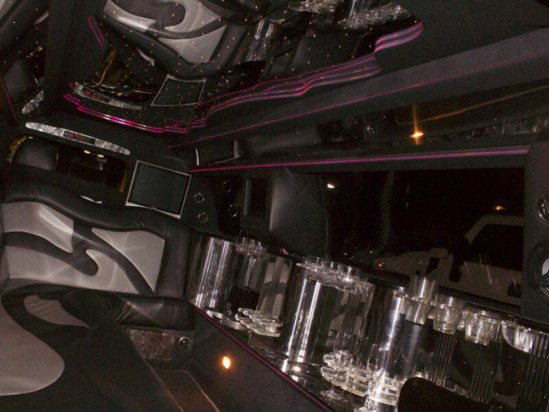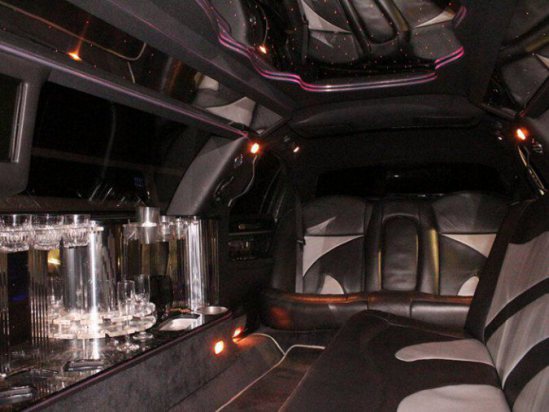 We also have a great selection of stately white stretch limos that are a perennial favorite for those who seek a world-class experience but, don't need to get more than 10 passengers around town. If you are in need of a chauffeured limousine, get in touch with us and our booking agents will steer you in the perfect direction!
10 Passenger Town Car Limo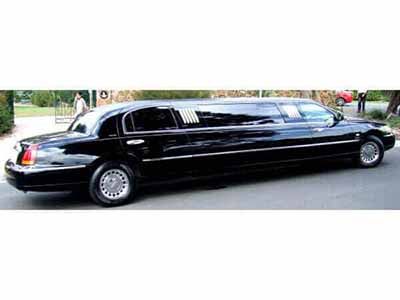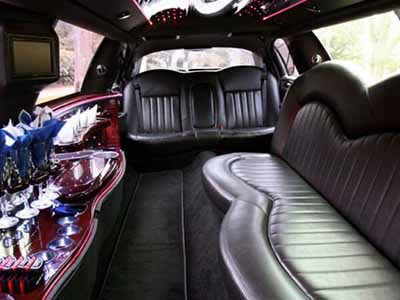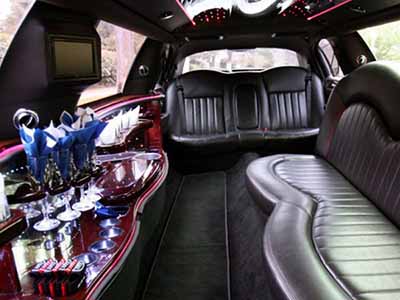 If you need something a little smaller than a bus, we have several options, such as this luxurious 10 passenger Town Car limousine. Inside this limousine you'll find plush leather seating, a very spacious beverage bar, colorful lighting, a television, DVD player, and CD player. And of course, a fantastic stereo system!
15 Passenger 2015 Mercedes-Benz Sprinter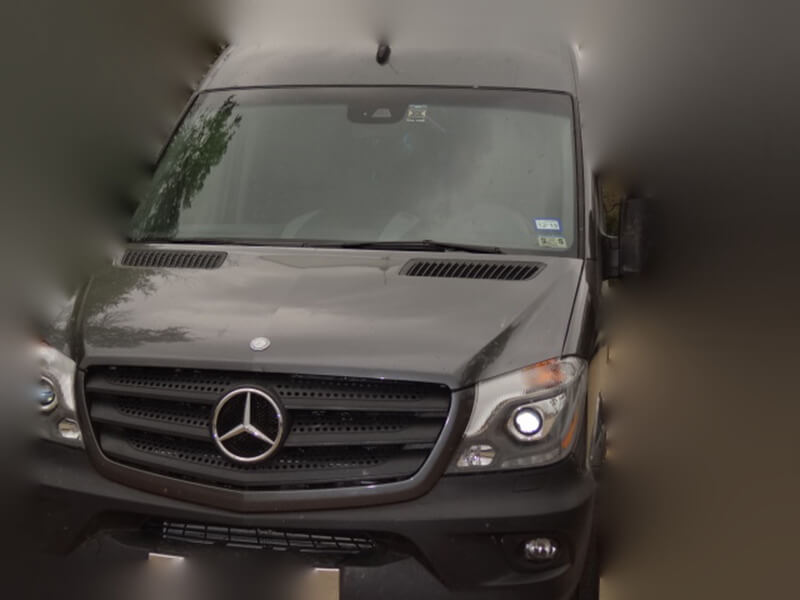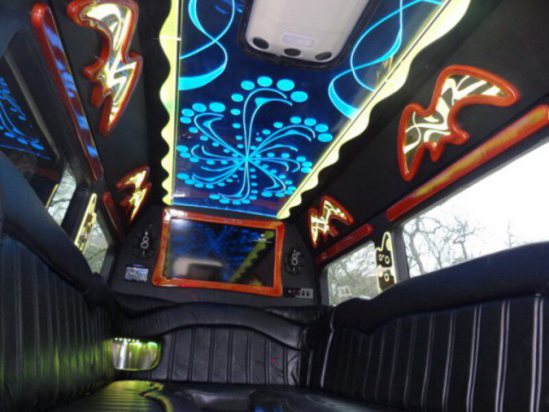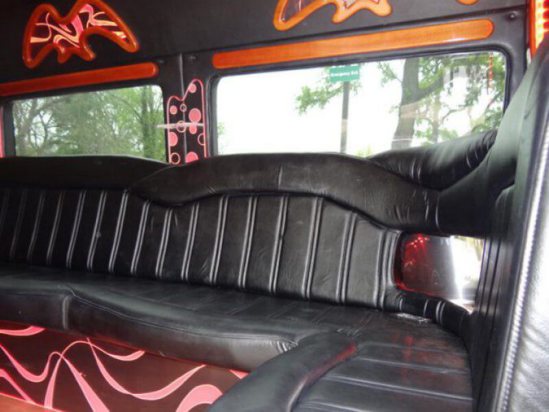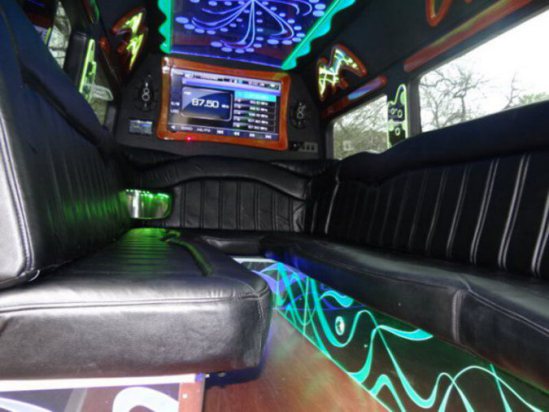 Not quite a bus, not quite a limo, and not quite a van... Our sprinter is definitely 100% luxurious and offers our patrons a dash of style without the voluminous size that our larger buses and limos offer. You'll really be surprised at just how much we were able to pack into this little guy! We invite you to check it out for your next big day!
18 Passenger Cadillac Limousine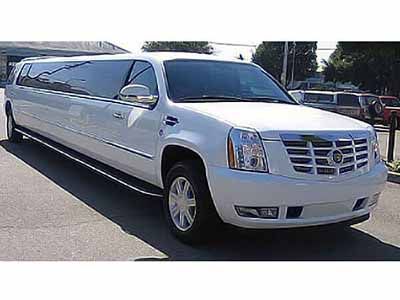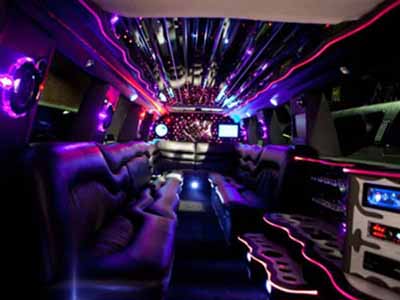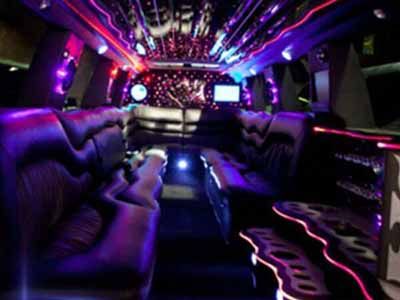 Our Cadillac Escalade is a lavish choice of limos! This lovely vehicle offers beautiful custom leather seating, a reflective ceiling with colorful LED lighting, a built in bar, and a concert-quality stereo system for your favorite music! Bring your CDs or plug in your phone or iPod and pour your drink and party it up as you celebrate across the Dallas-Fort Worth area!
18 Passenger Hummer Limousine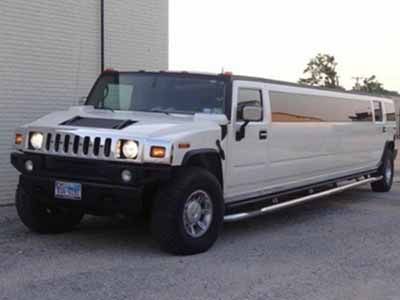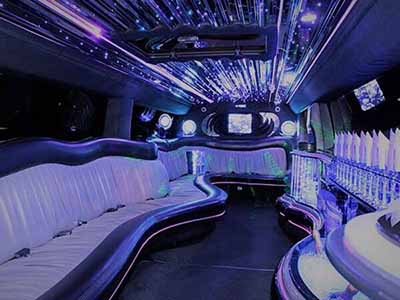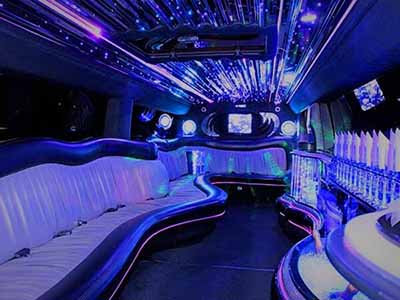 This Hummer limousine for 18 is a highly requested limousine. If you're in the market for a limousine, we would definitely suggest this bold Hummer. Gorgeous leather, a reflective ceiling with lights, and a spacious bar/cooler area to keep you more than hydrated.
20 Passenger Hummer Limousine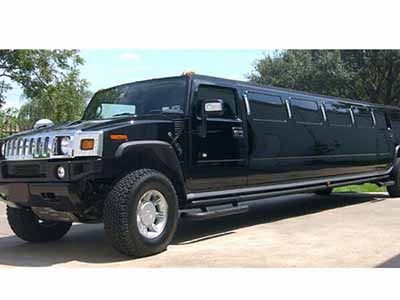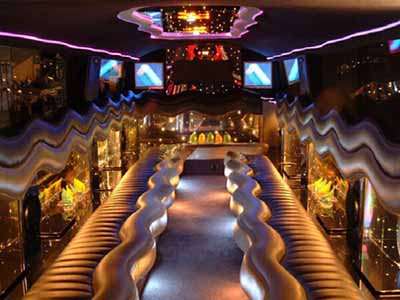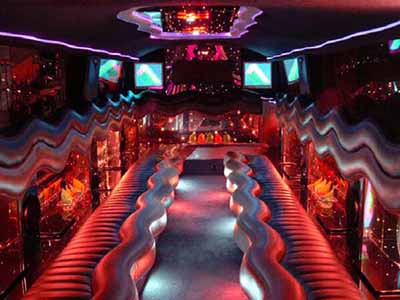 If our 18 passenger Hummer doesn't quite suite your needs, consider our 20 passenger Hummer! It's got all of the style and luxury of our other Hummers, but with additional seating space. The lighting scheme inside this one is breathtaking. You'll have a great time!
20 Passenger White Hummer Stretch Limousine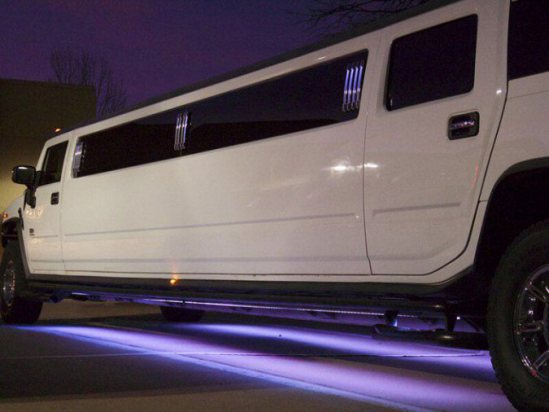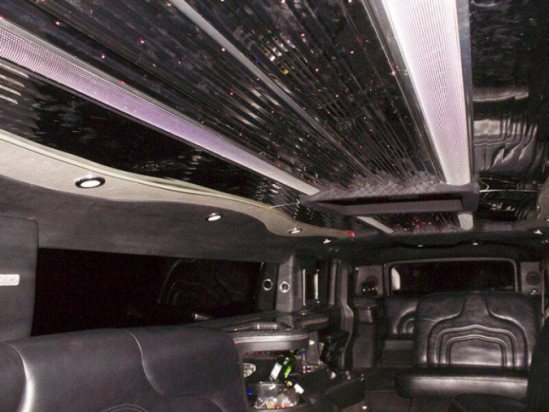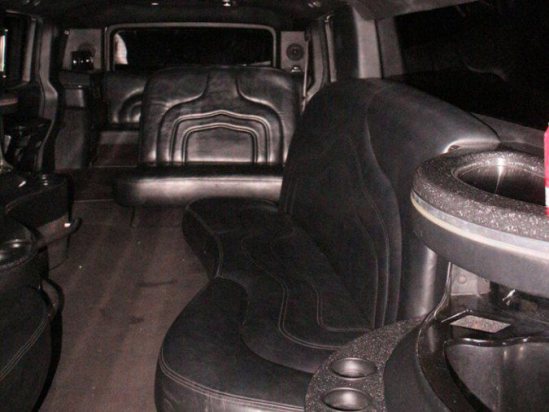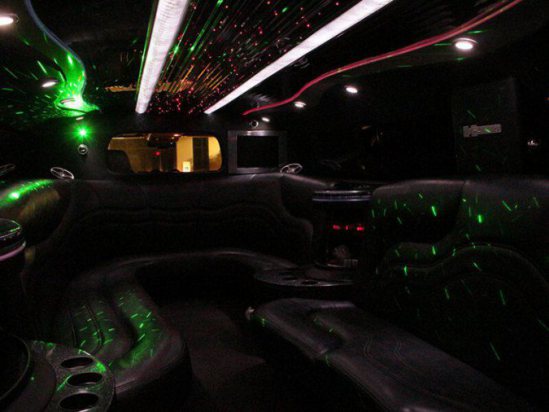 If you need a stretch limousine that can handle as many passengers as our smaller party buses, this 20 passenger H2 limo is a great choice. Rugged and super stylish all in one, you'll enjoy your evening with high grade leather seating, reflective decorum throughout, and a very spacious wet bar that you can fill with your favorite beverages.
22 Passenger Hummer Limousine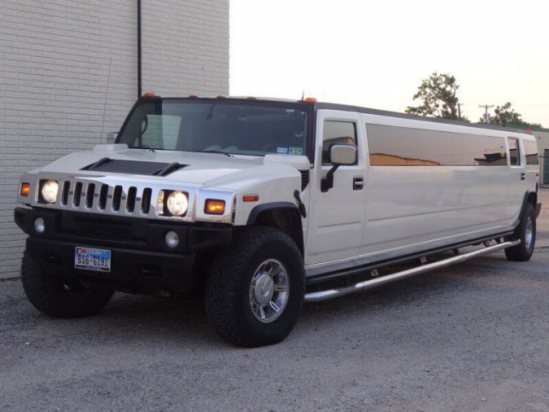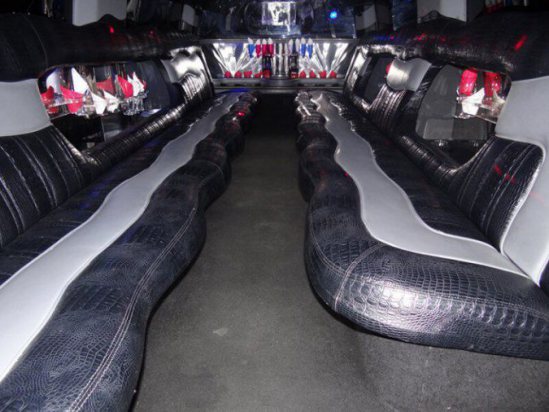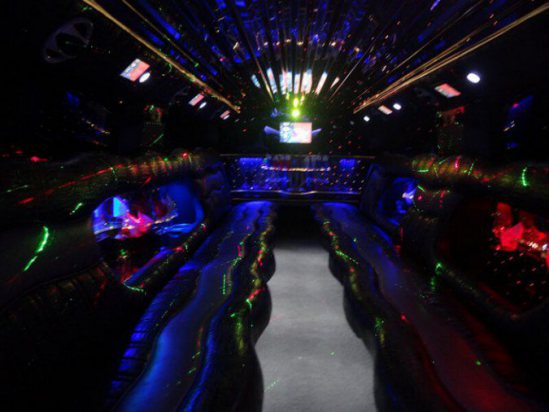 We also have a 22 passenger H2 limo that you don't want to overlook! Built with the same rugged, world-class style as our other H2 but, this one has a bit extra length to handle a couple more people. Don't miss out on your chance to live a bit larger, and sink into the comfort that our H2 super stretch series offers.
24 Passenger Coach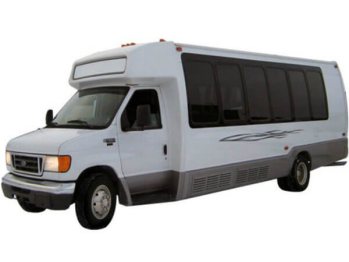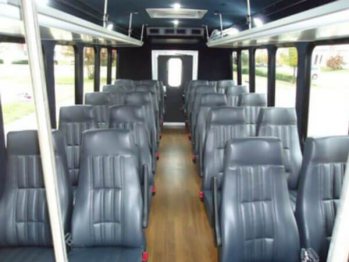 Our line of coach buses are perfect for long distance travel for groups or for corporate shuttles, but you can rent them for whatever you need. This 24 passenger options offers leather high-back seating, luggage space, seat belts, and wood flooring. This is a great one for golf outings!
25 Passenger Coach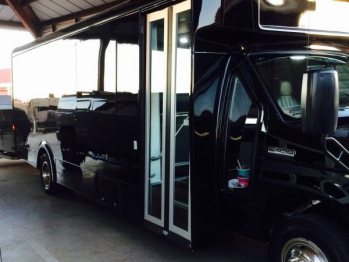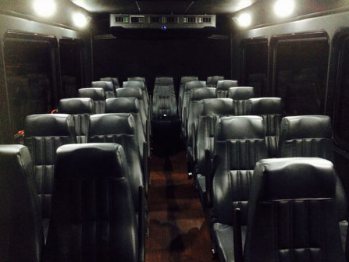 If our 24 passenger shuttle isn't quite big enough, try our 25 passenger minibus. This coach bus also offers relaxing leather seats, tinted windows, and overhead storage for your luggage, golf clubs, or other necessary items for your travels.
32 Passenger Coach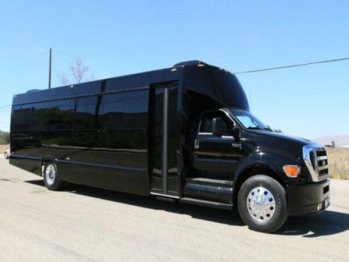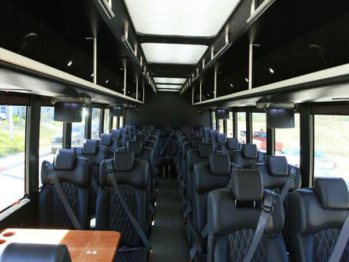 This 32 passenger coach bus is a great choice for groups who want style and comfort. Plenty of overhead luggage space, front-facing leather seats, and seat belts. Long journeys across Texas will be relaxing and comfortable in this spacious shuttle.
56 Passenger Coach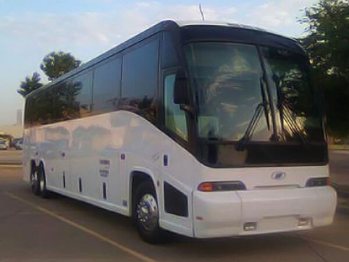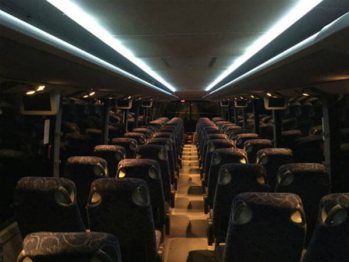 The largest bus in our fleet is our large coach for a maximum of 56 passengers! This mega coach offers forward facing seats with seat belts, ample luggage space for your bags or whatever you need to bring on your trip, hardwood floors, and a fantastic sound system. Play your music via Bluetooth or by plugging in your device. This is the perfect bus for corporate trips, airport shuttle, and more.
Airport Fleet Service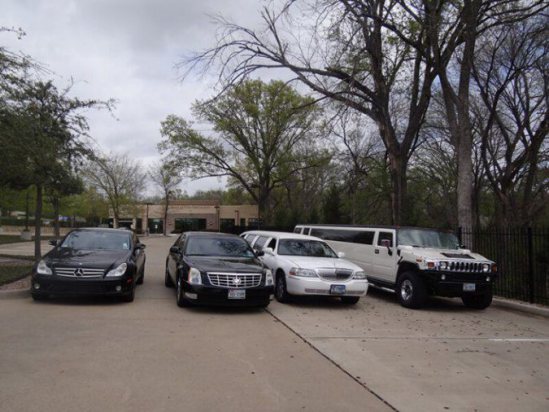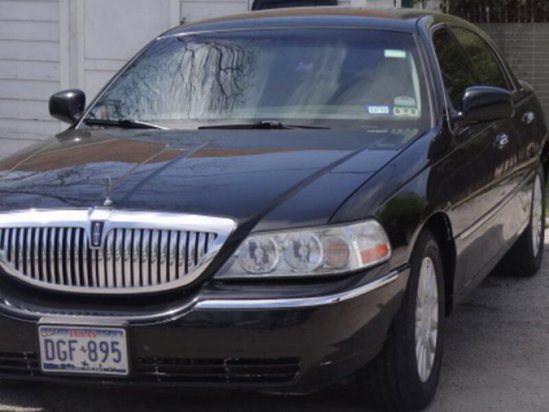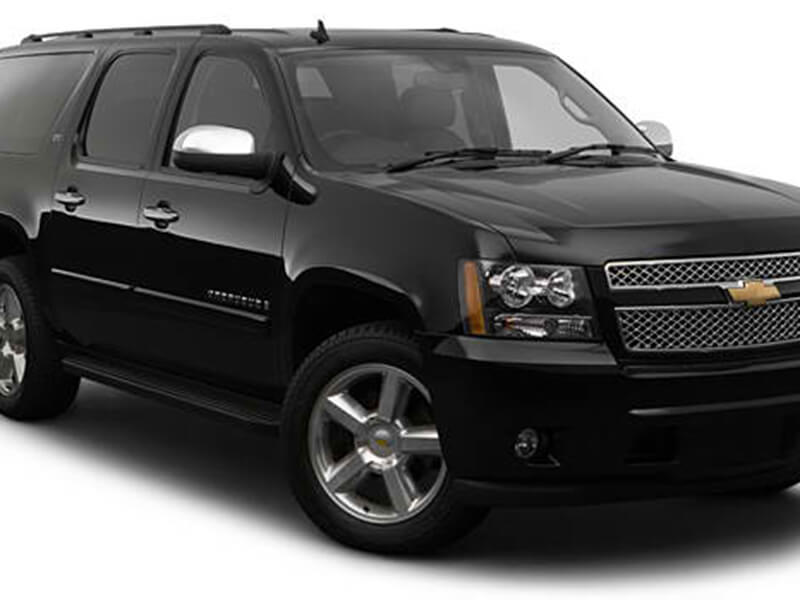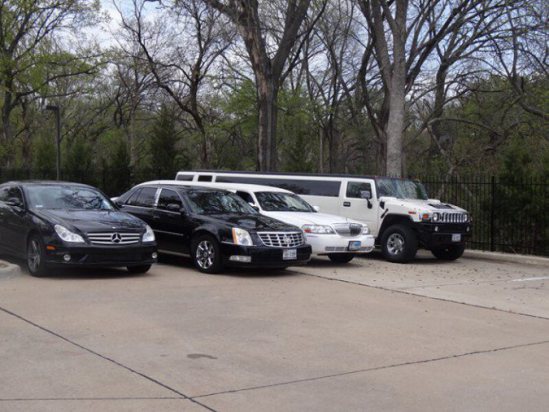 Our airport service is high-tech and high-class! We have the ability to provide tailored service that is perfect for the business person on the go. Enjoy a sedan or a larger SUV if you need to get more than one person to the airport in comfort and timeliness. The best part is that for extended stays, our transportation will likely save you money over paying for long term parking!